Alba Care Workshops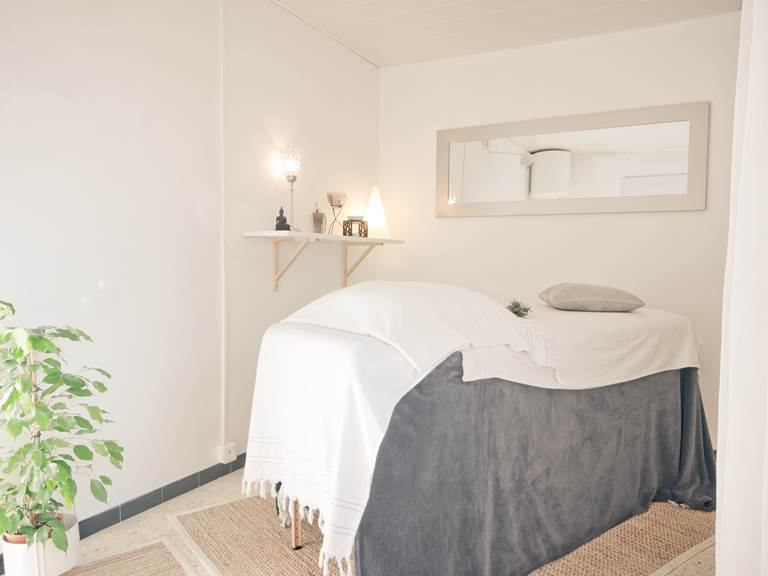 - Relaxation massages
All our massages are well-being massages using different techniques to provide total letting go. Adapted to each one, they adapt to your request.
- Californian (soft)
- Balinese (moderate)
- Deep Tissue (pressed)
30 ′ / 45 ′ / 60 ′
30 € / 45 € / 55 €
- Japanese Anti-Aging Facial Massage
Asian massage, the Japanese Anti-Aging Facial Massage stimulates the cutaneous microcirculation and lymphatic flow, for a better nutritive supply to the cells and drainage of metabolic waste. Hence the effect of "plumped face" and lightened complexion at the end of the treatment. But it also has an action on the skin tissues, which it firms, and on the muscles which it relaxes in order to smooth expression lines. Finally, it tones the face and gives it back its full shape.
45 ′ / 60 ′
45 € / 60 €
- Relaxing Back Treatment
The Relaxing Back Treatment is a real moment of letting go. After a purifying scrub with green tea, the algosérum diffuses its benefits and its soothing heat.The final massage, with its slow and deep maneuvers, loosens the tensions of the neck, shoulders, neck and back one by one.
40 ′
40 €

- Facial treatment 30 ′
A real express beauty treatment, this treatment fills the skin with ultra concentrated active ingredients for instant results. The skin is refocused and regains all of its original beauty.
30'
25 €

- Facial treatment 60 ′
Need hydration, nutrition, softness or purity? Exfoliation, massage and mask succeed to sublimate your skin.
She is radiant with freshness and beauty.
60 ′
50 €

- Depilations
Half legs 14 €
Full legs 18 €
Classic / Brazilian / full swimsuit 12 € / 15 € / 18 €
Armpits 10 €
Eyebrows 6 €
Lips 4 €
Full Face 10 €
Back or Torso 20 €
Forearm 5 €